Events and competences (Trainers) Elina


Infortimation for the trainers:
You'll only see your own competences through "Achievements"
You can download the materials.
Remember once an event has been "locked" it can't be edited.
You'll only be able to add the participant info once the date and time of the event has gone by.
You'll be able to "Save" the participant info before the event has ended but you won't be able to "Send" the info.
"Achievements" shows you your own competences.
You can filter your competences by:
Template name
Type
Organisation
Result
Event ID
Completed date
Valid until
Click "filter" to see the results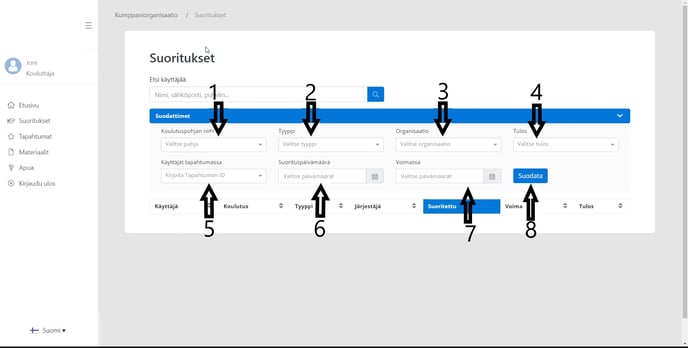 From "Events" you'll see the courses you're in as a trainer:
You can filter your events by:
Training template
City
Organisation
Date
Date
Status
Click "Filter" to filter the results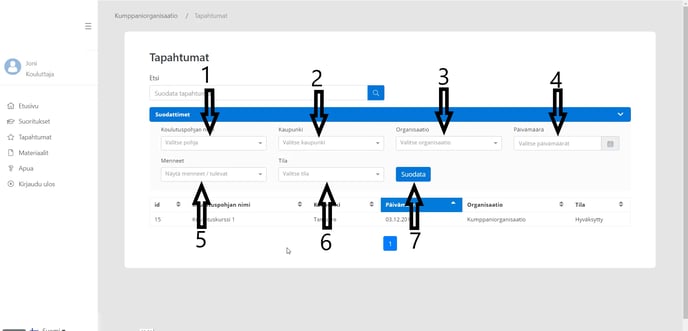 By clicking the event in question you'll be able to edit it and add participant information.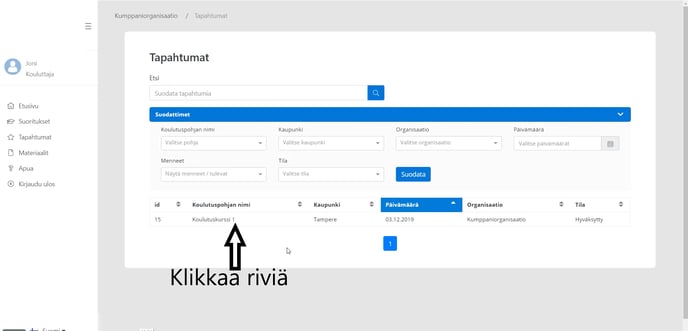 Participant information can be added once the event is over. Participant information can be added by:
Click and choose the event in question
On the new page do the following:
From the top choose "Participants"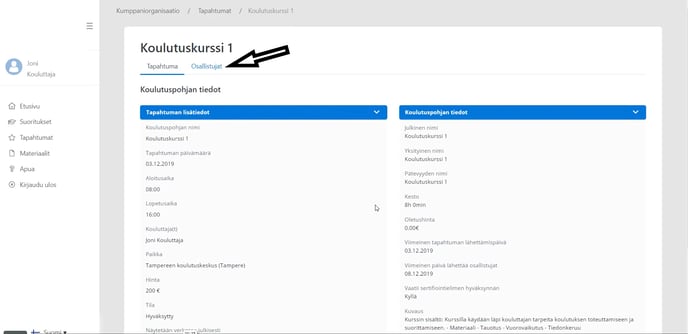 Fill in the following:
First name
Last name
Date of birth or SSN
Email address
Score
Also fill in the addresses in case the cards were chosen to be sent to the participants home addresses
From the top right-hand corner set the score for passing as 1 (=aseta läpäisypisteisiin 1)
By clicking the blue chevron you'll multiply the lines.
You can add several trainee information at once by using a CSV UTF-8 saved file. Import the file by clicking "Import csv/excel"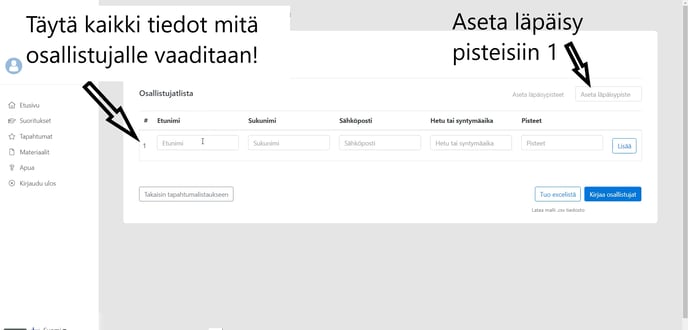 Next:
Click "Send"
In case you just want to save the info without sending it yet just click "Save".

Please note! Once you've hit "Send" you won't be able to edit or change the participant information!
Mailing
Training organisation
To the training organisation offering the event.
Customer company
To the company who ordered the event
Participants home address
Cards will be sent directly to participants home addresses.
Did this answer your question?